American Handcrafted Nunchaku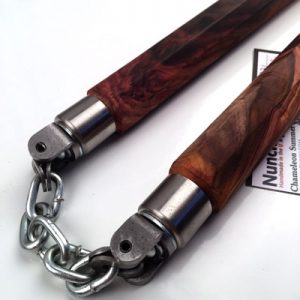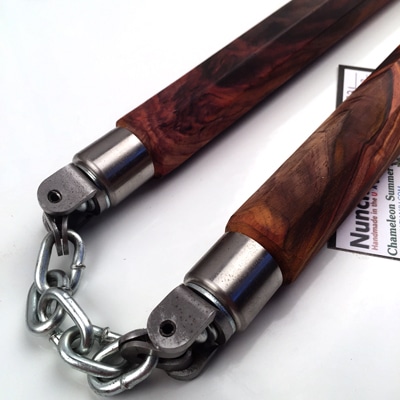 We make traditional nunchaku handmade in small batches.  Our American Handcrafted Nunchaku or nunchucks are a Chinese martial arts weapon. Each nunchaku handcrafted in America featuring a selection of various hardwoods from start to finish.  If you want to buy nunchaku, we offer American Handcrafted nunchaku in both rope and chained versions.  Our nunchaku are available in various lengths and widths for martial arts students, instructors, and nunchaku enthusiast everywhere.
Our Nunchaku are never stained, this is how the natural hardwoods look after being oiled.  They are made to be functional in forms and real life.  Each is one of a kind, made with 100% American materials and labor.  We invite you to check out our selection of handcrafted nunchaku and experience the difference in something that was crafted for you.
Our nunchucks feel and work the way they were supposed to because they were made to be comfortable and strong.  Each of our pieces is one of a kind because they are made by hand.  We think this makes each one special.  Human beings alone have the ability to place special value in objects. Its called Personification or
Red Oak, White Ash, Sapelle & African Mahogany Nunchaku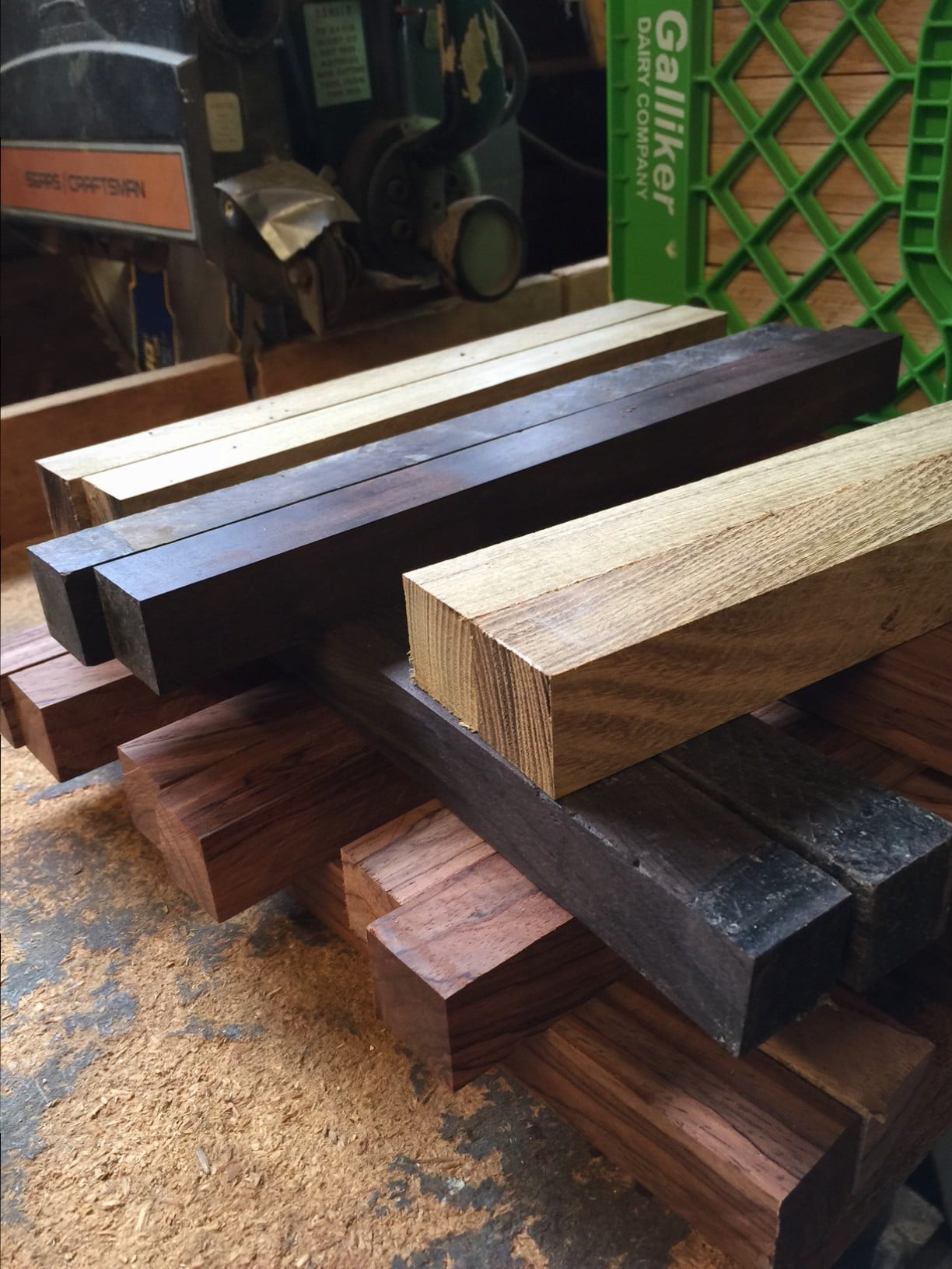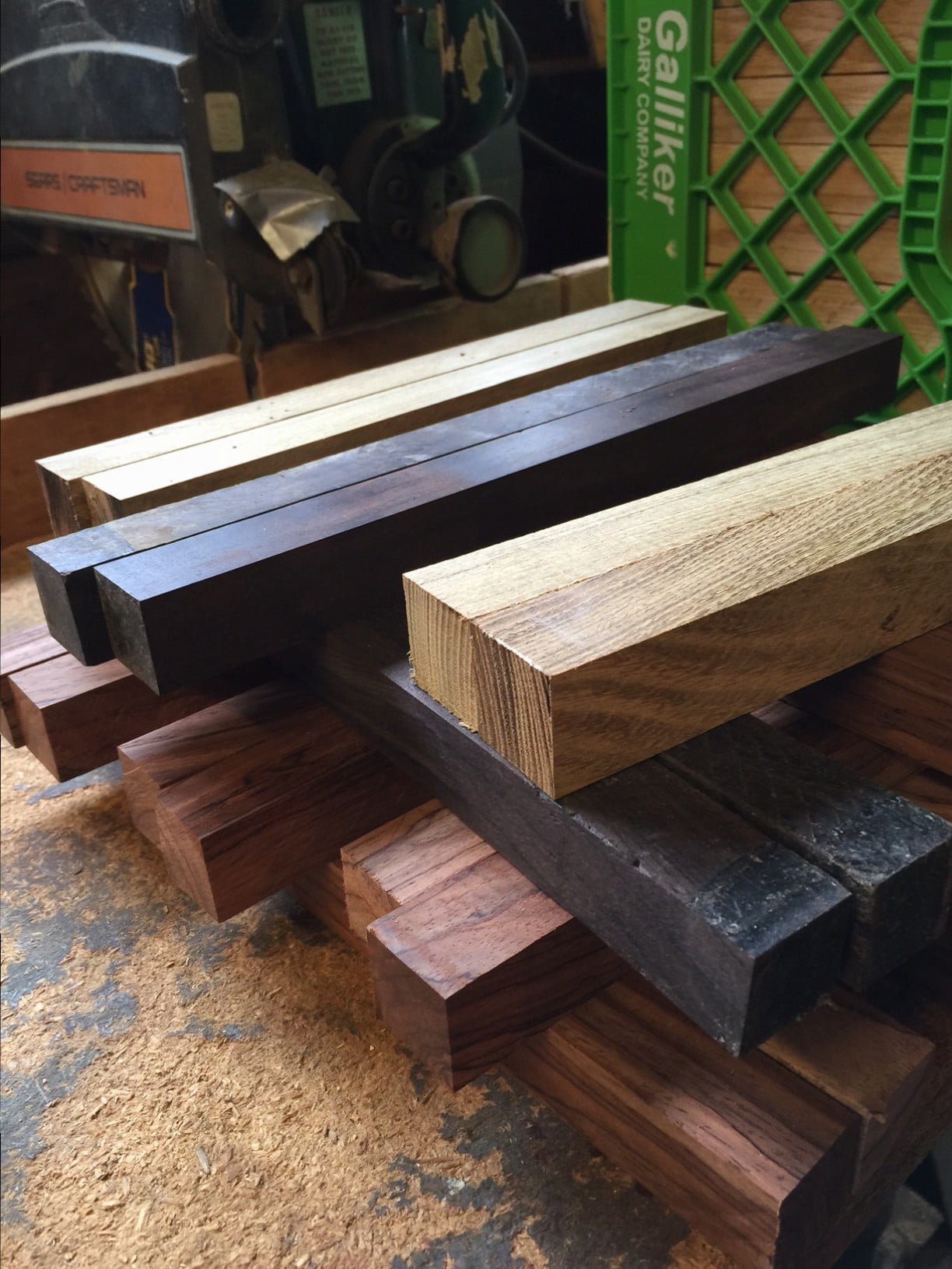 anthropomorphism.  A rabbit's foot or a favorite shirt, a lucky cup. These are all objects that take on personality's of their own to the owner. Martial artist make connections with their weapons  in the same way and we provide a weapon worthy of that notion. We provide that by making handmade Chinese nunchaku 100% fashioned in the United States. Every nunchakus is one of a kind. All hand cut from natural hardwoods, never stained, all hand sanded oiled and strung.
Have a look at our different batches, and select your one of a kind Chinese Octagon Nunchaku.
More Handmade Nunchaku
This year we will be adding some new versions of nunchaku to the list including round shapes for rope and chain systems as well as three sectional staffs made from Hard Maple and Bloodwood.  We have expanded our engraving service to size new types of American Handcrafted Nunchaku and have many new cocobolo designs in chain and rope available.  We are always looking to add to our nunchakus collection for free style and martial arts schools, so if you have a request or idea we would love to hear from you because making quality nunchakus for martial arts and nunchaku users of all kinds is our number one goal.
Every martial artist starts out and after some training, begin to acquire the weapons they study.  This happens in schools of every martial art style. When this time happened for me for the nunchaku, I was less than pleased with the standard issue chuck in bag, UN strung nunchaku from china.  It cost about $9 plus shipping but was in reality  worthless because they were too uncomfortable to learn with. 
The American Handcrafted Nunchaku or nunchucks (Japanese: ヌンチャク Hepburn: nunchaku, often "nunchuks",[1] "chainsticks",[2] "chuka sticks"[3] or "karate sticks"[4] in English) is a traditional Okinawan martial arts weapon consisting of two sticks connected at one end by a short chain or rope. The two sections of the weapon are commonly made out of wood, while the link is a cord or a metal chain. The nunchaku is most widely used in martial arts such as Okinawan kobudō and karate, and is used as a training weapon, since it allows the development of quicker hand movements and improves posture. Modern-day nunchaku can be made from metal, wood, plastic or fibreglass. Toy and replica versions made of polystyrene foam or plastic are also available. Possession of this weapon is illegal in some countries, except for use in professional martial art schools.
For more information about our nunchaku and us check about us  Also check out the history of nunchaku to get more information about it's role is martial arts as well as how to care for your nunchaku.  Always check your local laws in regards nunchaku and their use as well as our terms and conditions.