Personalized Nunchaku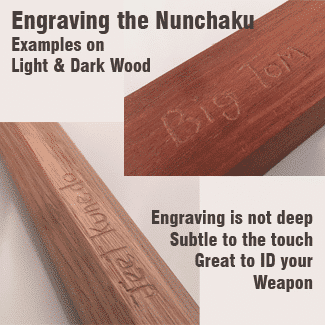 We are offering the engraving on Red oak, Ash and Mahogany in regular, slim and tapered sizes. We can do up to 10 English characters set on the rear end of the nunchaku. You can choose to have the engraving on one or both nunchaku. We recommend to keep it simple like initials or simple names. The longer the strings of letters tend to look jumbled. Please keep in mind this is done by hand and engravings are not painted or colored in any way. Since this takes place in the middle of the production, as an added bonus you can choose your cord color when placing your order at no charge
[wpcsp id="7609″]
PLEASE READ Things to remember with wood engraving:
Engraving can add up to four days to the shipping time.
It's only available on the 12″ red oak, ash, and Mahogany
English block letters ( no script)
The engraving tool is not a laser or robot, these are done by hand.
The flat surface area and the engraving tool are both very small and limit the character sizes.
The Engraving is not painted or colored, it is not darker than the color of the wood itself, our woods are never stained.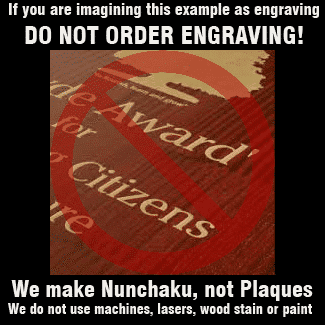 All our nunchaku are unique, adding engraving will seal the deal. A perfect gift for an martial artist this year.
These training weapons are made of top grade and match real weapons in length, size, weight, and feel. These are constructed to be durable, cut resistant, and remarkably stiff, which allow martial artists to master techniques, footwork, and the basic stances. USA Nunchaku's red oak Octagon training nunchaku are made from Red Oak, these nunchaku are All are handmade, shaped, oiled, sanded and strung. Like all of our nunchaku each of one of kind. The weapon you see is the exact one you will receive. 100% made in the United States.
Traditional Nunchaku Design
Unlike mass produced martial arts weapons made overseas, we designed our nunchaku to be easy to hold, not get sticky and give you confidence as you practice your forms. Originally the nunchaku was designed from farming tools in China. Occupied Chinese were not allowed to have weapons and a whole range of new weapons sprung from the tools at hand. Our nunchaku are not mass produced, each one is made one at a time. We use exotic hardwoods and try to get every inch of wood used in our product. Some of these woods are hard to find in usable sizes so we take great care to get the most out of each piece. The design is to last and be durable. We take out the least amounts of wood to keep them strong and use rope that will only fill the voids to make them easy to repair. We have re string kits available as well as instruction as to how to re string our nunchaku when it becomes necessary.
Realistically practice self-defense, martial art forms and demonstrations with the feel and maneuverability of real weapons
Unlike polypropylene, wood feels great allowing martial artists to practice as much as they like
Quiet rope design for training
Octagon-shaped grip with grooves for a more realistic experience
heavyweight and durable