Nunchaku Re-String Kit
$5.99
Re-String Kit
wire tool
3 sets of 3′ cord
Description
Nunchaku Re-String Kit
Over the years, we have been asked to repair old nunchaku and give life back to tired and used nunchaku all over the world.  One of the big problems is always re-tying the strings set.  For those who like or have to string their own nunchaku this is the Nunchaku Re-String Kit which basically is a packet of the materials you will need to re string your nunchaku. The kit consists of perfectly shaped wire tool and 3 sets of 3 ft of para-cord in your color choice.  This along with some basic household tools that you will need to provide: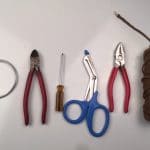 Additional information
| | |
| --- | --- |
| Weight | 2 oz |
| Dimensions | 4 × 4 × .25 in |
| Select Paracord Color | Abyss, Acid Purple Diamonds, Black, Blood Diamonds, Breast Cancer Awareness, Cannabal, Cap America, Cheetah, Comanche, Copperhead, Crimson, Dahlia, Day Break, Desert Folio, Digital Viper, Dragonberry, Dragonfly, Fast Pitch, Federal Navy, grey, Harley, Jedi, Jet Stream, Leopard, Lightning, Moss, Neon Lime Diamonds, Neon Orange, Shark Attack, Snake Skin, Solar Orange, Thin Red Line, Touch of Grey, US Marine Corp, White, yellow |
| Manufacturer | American Nunchaku Company |
Only logged in customers who have purchased this product may leave a review.