Exotic wood Nunchaku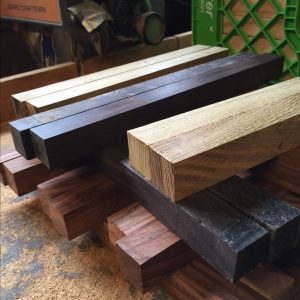 I've been working away at getting the new stock ready for this coming weekend. So far everything is a go. This time we will have Red Oak, Cocobolo, African Blackwood and Locust. The weather here has been horrible and the wood shop has been cold but things are moving along well. All of the blanks are being shaped and the toxic stuff has been cut. Most people don't know that the cocobolo dust is very toxic. We have to wear masks when cutting it as it becomes hard to breath and the air literally turns maroon. In the end it is well worth the time put into them as the cocobolo tend to feature some of the most beautiful wood grains. This time I have a few pieces that feature the pulp wood from the cocobolo which is a lighter color and makes for the wonderful finish mixed with the dark red colors.
African Blackwood is our newest exotic wood type. It has taken the place of the ebony which has become impossible to find in sizes we can use. It has a dark to pitch black color and is very dense and heavy. The grain is very fine much like the ironwood we also use. This makes for an overall dense heavy nunchaku which comes alive when it's weight gets put into motion.
Stop back on Sunday morning to usanunchaku.com and check out the new arrivals.