Chain linked Speed Chucks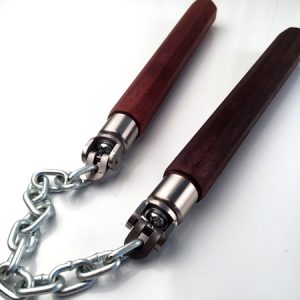 As we hit the dog days of summer in 2017 the shop is finishing out the Dragon Fly run of nunchaku to end the first part of the season. With the introduction of our chain linked nunchaku this summer, we wanted to add to the mix with some cool variations from the old days of kung fu and karate with a similar variation of the classic speed chuck. We have made the handles shorter and the chain longer to match the total length of a standard 12″ chain set. We are going to be making these in a variety of shapes, woods and lengths for our next batch along with 3 sectional staffs and chain linked cocobolo nunchaku. These will finish out the dragonfly run 2017.
These nunchaku hard a bit different than the normal size to swing. It doesn't take too long to get used to them. Look for us to try out a variety of woods in the coming batches to give a good weight mix for nunchaku swings of all styles.
The debut are two pairs, one red heart at 10″ and a katlox set of 9.5″ weighting in a full 16 oz pound! As always, join our newsletter to get updates on new nunchaku in the shop.