Usa Nunchaku Debut our 3 Rope Nunchaku tie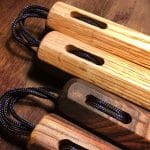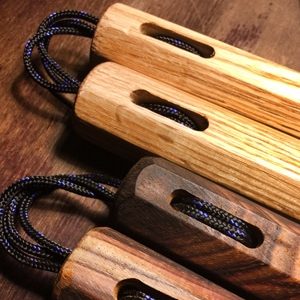 We are now going to start offering the nunchaku tied using a 3 rope nunchaku tie in the middle method. It will be offered in a number of colors featuring a 480lb para-cord as always 100% American made. While this method takes a bit longer to do and is more complex, we feel that it's a great look, very strong and doesn't require us to remove any more of the wood material which in the end makes for a stronger nunchaku. It is also still a reliable end knot which can not unfasten like the other two method.
This string method takes longer because of the complex pattern for the string. We do not have an instructional set up yet for this way of roping the nunchaku. As with all martial arts moves, there are a number of ways to arrive at your desired results. This is also true with the many ways you can choose to tie your nunchaku later on. This year we are also planning to feature a number of instructional posts on the site that will feature different ways people tie their nunchaku.
Two Rope 650lb Tie
We will be continuing our two rope in the middle tie with a few changes. Now we will be using the flat 4 strand 650 para-cord. As with all our rope we only use American made and only buy it from American retailers. Currently this tie will only be available in a few colors but we hope to broaden the selection soon.
For more information on rope check out the rope lengths guide and the how to string nunchaku post on our website. Remember to sign up for our newsletter for updates, new products in stock and nunchaku news.